Hi and welcome to my website, I love being a broker, you are looking at someone who is passionate about travel, with a focus on providing outstanding service, quality and has been in the industry for over 25 years. I have clients from all over NZ, Hawkes Bay, Coromandel, Wellington, Christchurch, Tauranga & Invercargill, and Auckland too. Technology makes this possible so no matter where you are, or where I am, I am able to organise a great adventure for you.
Travel spins my dial, I first stepped on a plane at 3 years as a Junior Jet Club Member of KLM on my way to the UK, and have never stopped travelling. In the last 6 years I have spent roughly 24 months living in Europe, visiting Asia, India and The US. I have a passion for cycling, photography, food & wine.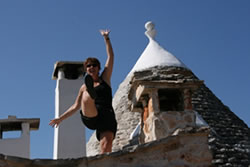 So.... my life is travel, either organising trips, or on wonderful adventures myself. In 2015 I cycled across France it was such an amazing adventure and I realised it is achievable for everyone. I have a wealth of knowledge, living like a local in many European countries such as France, Portugal, Italy, Greece, Spain, Austria, Germany, Morocco, Croatia, Ireland & the UK. I have visited most of the Pacific Islands, numerous regions in Australia and Asia is not a mystery to me either, having visited Singapore, Japan, Malaysia, China, Bali, Vietnam, India & Thailand - a favourite of mine - it insults your senses, touches your heart and it never ceases to surprise me, the list of destinations I have visited is endless, and my thirst for travel will never be quenched. Recently I have managed to add to the list Cuba, Mexico, New Orleans, Cambodia & Sri Lanka – what a year!
Everybody dreams about holidays in paradise, whether it's lazing on a beach relaxing with a good book, cycling the back roads, exploring Castles, Cathedrals & magical cities of the world or cruising the high seas. I would like the opportunity to make your dream come true, I understand how important it is, life is short, and you've got to grab the moment. As I am home based I have flexible hours to suit your time and can source great deals. I know of out of the way & special places as I have discovered them with my own travels.
Ring or Email me now – Carpe Diem