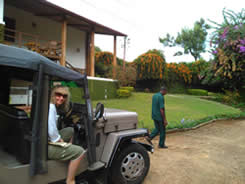 Hi ya guys my name is Carole Garnham.
I've been in the travel biz for over 20 years and got started whilst based in London on my "Big OE" – 6 years of pure fun in a combi ! I've travelled extensively throughout both the Northern and Southern Hemispheres, including Asia. You name it I've been there, or if not I'm probably thinking about going there real soon!
Whilst living and working in London, I worked for Insight international who specialise in coach touring throughout the UK, Europe, and also the Middle East and USA. Then Crystal Ski Holidays who are European ski specialists, and lastly (but certainly not least) Kuoni, a renowned prestigious UK company, specializing in fly/drive and wedding packages across the Caribbean and North America.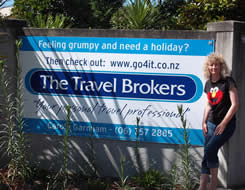 In New Zealand, prior to joining The Travel Broker Team, I've worked in the Retail Travel Industry for two prominent travel agencies, one of which specialised in online internet consulting. In both cases I successfully gained top million dollar status! I have also consistently scooped up High Flyer business awards for The Travel Broker group for the years 2013, 2014 and 2015.
In addition to the specials that I can get my hands on with The Travel Brokers, I have also created my own website http://www.go4it.co.nz which gives me the opportunity to offer slightly different alternative holidays that capture the many interests I have at heart; voluntary tourism, yoga, dancing, cooking and cycling getaways. I also hold a passion for cruising having completed 19 cruises and with quite a few different cruise lines ranging from P&O, Carnival, Princess (I hold Princess Academy accreditation), NCL, Celebrity, Royal Caribbean and Cunard. I have covered Mexico, West and Eastern Caribbean, New York to Quebec, Auckland through the islands to Australia, and around NZ twice. Out of Europe up to Scandinavia and Russia. From Dubai over to Abu Dhabi, Bahrain and Oman. Around Japan over to Korea and East Russia. Vancouver and through to Alaska return. I've sailed with NCL around the Hawaiian islands. I have recently completed the Panama Canal crossing covering Mexico, Costa Rica and Colombia through Central America. And this summer experienced one of the world's biggest Mega liners Oasis of the seas, which took me into Eastern Caribbean, Puerto Rico and Haiti.
So whatever your plans or dreams are, let me create your next magical holiday or cruise experience!