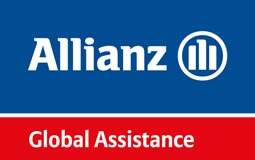 Even the most carefully planned travel experiences can go unexpectedly wrong. Regardless of how careful you are, it is important to prepare for the unforeseen and organise travel insurance as soon as you have confirmed your holiday booking. With travel insurance from Allianz Global Assistance, help and assistance are just a phone call away.
Allianz Global Assistance (AGA) offers two policy choices. For the budget conscious, the Essentials policy has restricted benefits and lower policy limits. The Comprehensive policy is their top of the range policy with higher limits and extended benefits for peace of mind while travelling.
Both policies offer the following standard policy features:
Cover for medical and repatriation expenses
Emergency assistance provided 24 hours/7 days a week by Allianz Global Assistance and their international assistance network
Replacement cover for baggage items less than 2 years old
Dependent children under 21 years are covered at no additional charge
Rental vehicle excess cover
Some recreational sports are automatically covered including:

Leisure skiing and snowboarding
Scuba diving (with PADI or NAUI qualification)
Hot air ballooning
Parasailing and paragliding
Bungee jumping
White-water rafting in grade 4 or less rivers
The Comprehensive policy also includes:
Civil unrest for the Pacific Islands
Terrorism cover
Automatic free cover for some Pre-existing medical conditions
You can also ask for the following extensions:
Private hospital care where reciprocal health agreements are in place
Nil and high excess options
Increased cover for specified high value items
Cover for Pre-existing medical conditions
Your request will be subject to assessment, and if Allianz Global Assistance agrees to the extension, an additional premium may be payable.
Click here to view the full Policy Wording. This document details the benefits, terms, conditions, limits and exclusions available under each policy option. We recommend that you read and understand the Policy Wording prior to buying your insurance with us. Our agents are also available to answer your questions and assist you with the purchase of your travel insurance.
ENQUIRE NOW
Travel Insurance Claims
If you have a policy with Allianz Global Assistance and you need to make a claim, you will need to complete a claim form:
Click here to download a claim form.
If you would like Allianz Global Assistance to send you a claim form by email, you can request this from help@allianz-assistance.co.nz.
In order to submit your claim you are required to:
complete the claim form;
provide AGA with the supporting documentation outlined in the section(s) of the claim form under which you are claiming;
provide AGA with any other information they require in order to assess your claim.
For urgent claims, you can lodge you claim by calling Allianz Global Assistance on 0800 884 512 (+64 9 487 0819 from overseas) and by submitting the fully completed claim form.
When you call, Allianz Global Assistance require:
your name;
your policy number;
details describing your emergency;
a contact phone number, including an area code.
You may lodge your claim with the supporting documentation whilst you are travelling or upon your return to New Zealand. If you do require assistance while you are away, please call us.
CONTACT ALLIANZ GLOBAL ASSISTANCE
FREEPHONE WITHIN NEW ZEALAND
Phone Number: 0800 800 048
OUTSIDE NEW ZEALAND
Phone Number: +64 9 486 0048.
EMAIL
Customer Services & sales support: help@allianz-assistance.co.nz
Claim submission/additional information: travelclaims@allianz-assistance.co.nz
POST
P O Box 112 316, Penrose Auckland 1642
Disclaimer
This travel insurance is issued and managed by AWP Services New Zealand Limited trading as Allianz Global Assistance and underwritten by Allianz Australia Insurance Limited ABN 15 000 122 850 (Incorporated in Australia) trading as Allianz New Zealand. You should consider the Policy Wording before making any decisions about this travel insurance policy. For further information on Allianz Australia Insurance Limited's financial strength rating, please refer to the Financial Strength Rating and Overseas Policy Holder Preference Disclosure Notice.
Financial Strength Rating and Overseas Policyholder Preference Disclosure Notice
Allianz Australia Insurance Limited has an AA- insurer financial strength rating given by Standard & Poor's (Australia) Pty Limited. The rating scale* in summary form is: AAA Extremely Strong, BBB Good, CCC Very Weak AA Very Strong, BB Marginal, CC Extremely Weak A Strong, B Weak, R Regulatory Action Plus (+) or minus (-): Ratings from "AA" to "CCC" may be modified by the addition of a plus (+) or minus (-) sign to show relative standings within the major rating categories.
*A full description of the rating scale is available via www.allianz.co.nz/insurer-rating. An overseas policyholder preference applies. Under Australian law, if Allianz Australia Insurance Limited is wound up, its assets in Australia must be applied to its Australian liabilities before they can be applied to overseas liabilities. To this extent, New Zealand policyholders may not be able to rely on Allianz Australia Insurance Limited's Australian assets to satisfy New Zealand liabilities.