*BOOK BY 31 MARCH 2020*
DEAL #1 - COLLECT OUTSIDE FRANCE
FREE collection/return fees outside France!
PLUS - 3 FREE DAYS for PETROL or HYBRID vehicles (eg. book 24 days, pay 21 days)
DEAL #2 - COLLECT INSIDE FRANCE
10 FREE DAYS (petrol vehicles); or 6 FREE DAYS (diesel vehicles)! (eg. book 31 days (petrol) or 27 days (diesel), pay 21 days)
PLUS! All repeat customers receive MORE FREE DAYS. And repeat customers since 2017 also receive a FREE TANK OF FUEL!
Note: You must pay for a minimum 21 days. Deal 1 & 2 cannot be combined.
The following prices are valid for new bookings until 31 March 2020 and vehicle collections in 2020.
OR - Take 10% off the total vehicle price if you book for 90 days or more! Excludes all deals & offers mentioned above.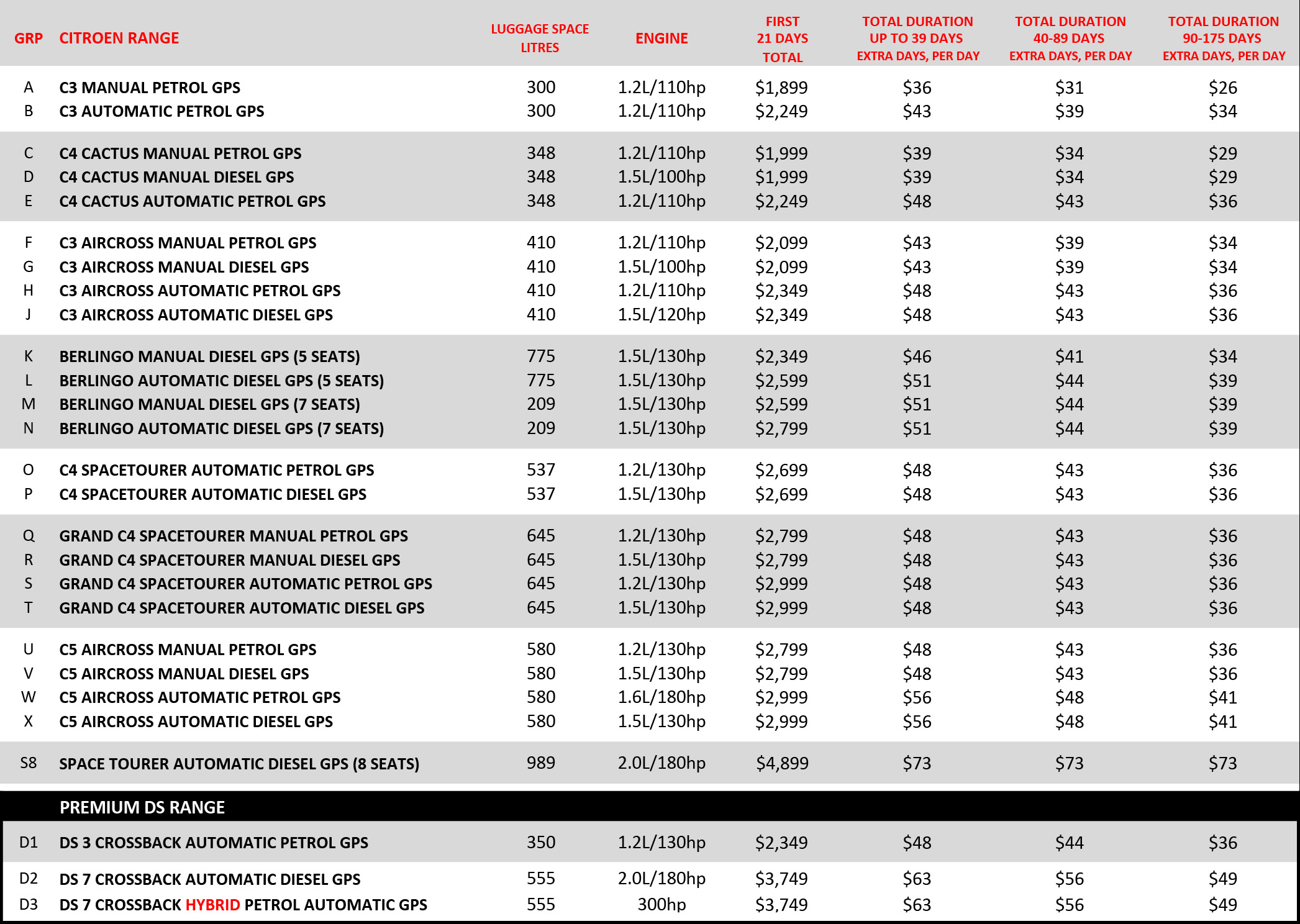 * Grand C4 SpaceTourer has 2 seats that fold into the floor of the luggage area. These seats are designed for short trips as there is no luggage room when in use.
Note: Maximum lease period is 90 days if collection & return is in Portugal, plus you cannot spend more than 90 days in a tax-free car in Portugal. GPS - In-car GPS system, in English. Please visit citroendriveeurope.co.nz and go to 'Information' -> 'GPS Information' for list of countries covered. Winter (November to March) - We no longer offer vehicles with special tyres - a requirement in countries such as Germany, Austria etc over the winter months. We can only offer snow chains (an additional cost) but they are designed for short-term use only. Click here to learn more about the winter driving rules in each country.
VEHICLE FEATURES - please visit citroendriveeurope.co.nz and click on 'Vehicles' for details on each vehicle.